Symposium Introduction
At the crux of Paul North's The Yield: Kafka's Atheological Reformation, a study devoted to the famously obscure Zürau aphorisms, are two diagrams: the first (fig. 1) is a simple parallelogram, indeed a square, with the corners, moving clockwise from the bottom left, labeled "Being," "Time," "Death," and "Will" (27). The second (fig. 2), which does not correspond to any simple geometric transformation of the first, has three lines: a vertical stroke labeled "Belonging to" on the bottom and "Faith in" at the top, a second stroke drawn from the top right (labeled "Art/Semblance") to a point slightly below the middle of the first, and a third stroke drawn from the bottom right ("The Yield") to a point to the left of the middle of the second line (29). For North, these two diagrams represent, if no doubt all too schematically, the yield of Kafka's writings. As Kafka "writes down his thoughts," the poles of the first square, "often considered not only the major but also the only poles of European thought and practice"—these "basic precepts" on which the tradition of the West would be anchored—are changed together with their relationships to one another; the parallelogram is dragged out of shape (28). This contortion, a strange spiritual gymnastics, is a yielding of the yield, and a yielding to the yield. Being itself, the term that underwrites the entire project of Western thought, yields to having and then to not-having; time yields to faith, which "positions an event of possession-taking in the future and projects a path along which it will be reached" (28). Death yields to semblance; it is not our finitude that characterizes us in our relation to God, but that we were made in God's image, as image. And finally, will yields to the yield. Yet if one dare not speak of will yielding to the yield itself, let alone the yield yielding itself to itself—formulations like this draw us back into the realm of idealist self-reflectivity or the existential analytic—nevertheless there is a sense in which no order, no mathematical or intuitive logic, no formalized calculus or algorithm will offer us the provisional, questionable confidence that the master promises the disciple so long as she takes measured steps along the path. Not even the "Kafkan logic" that North develops in the "Excursus," nor the subtle theory, drawn from Brentano, of the corner as boundary, offer the tentative mastery that we as readers, having humbled ourselves before the text, are still wont to demand. Rather, this logic gives a very different figure for what it might mean to be able to "make sense" of North's text. Ability itself, he explains, "is less the actualization of a potential than the accessing of a primary impotence":
This logic is demonstrated perfectly with the example of swimming. Water: in equal parts it buoys you up and drags you down into its depths. Because the swimmer can only swim to the extent that he is not sinking, swimming is not a power, a potency, an activity, a possibility, a positivity. Rather, to swim is to drown again and again, and one's resistance to drowning is drawn from the profundity under it. Anyone who has tried to swim in a puddle can verify this. (164)
That swimming is something we can do, with various degrees of strength and mastery, belongs to the order of common sense. Indeed, swimming—even more than walking, thinking, dancing, singing—is emphatically an ability, and in a way that might appeal to the most hard-nosed positivist, as skeptical as she might otherwise be of all occult qualities and other such Aristotelian cobwebs and of everything merely subjective and poetic. For, of course, the claim "I can swim," is brutally, decisively, falsifiable. Yet for North, swimming exemplifies—perfectly, indeed—a logic of primary impotence. One suspects, moreover, that what conceals this from us, allowing the web of common sense to form, is a kind of habit; the more comfortable we become with our swimming, the more it comes to seem as something we can do rather than a spasmodic flailing refusal of drowning. This habit takes the form of grace and virtuosity.
Such a logic applies no less to thinking. Perhaps the capacity for thinking is not the auto-poetic transcendental principle that it has been made out to be—and even if we no longer fess up to being Cartesians, we still all somehow think we can think and are thinking—but is merely the habit, strong and graceful to various degrees, by which we have forgotten that primal yet ever repeated failing and thrashing elicited by the depths of thought. Or as North puts it, offering a précis of a "thought" whose precision is "ferocious"—wild, savage, untamed: "Thinking is sinking."
This is the ferocious, the wild—the wholly unorthodox—task of The Yield. To bring us to the point of sinking; to think thinking sinking into the depth of thought. It is not just that the yield, which is also somehow the ground beneath us, yields, not just that no logic can really master it; not just that the yield that can be yielded is not the true, genuine yield. Even if, in remaining a work of respectable scholarship, it is still more feral than ferocious, the point of The Yield—the point that bounds an ethics of yielding but cannot be reduced to it, and which is not a telos or purpose but the corner into which it retreats—is that for us (academics, scholars, teachers: all too confident, for all our endless rhetoric of humility, in our, if only ever tentative, capacity for thinking) the yield yields as a kind of thrashing, a treading and shredding of that protean, liquid element that our thinking has claimed as its element.
This is what is at once magnificent and unsettling about The Yield. While North demonstrates a virtuoso's mastery not only of Kafka's writings but of the modes of philosophical and philological reflection, one cannot help but suspect, even as one sinks into the profundity of his argument, that this very mastery, and its magisterial effects, belongs to the realm of semblance, ruse, art, and artfulness. It is not only that this mastery, in a manner that must already be familiar from Derrida and Agamben as also from a long tradition of apophatic discourse, has been turned into a double-edged sword and wielded against itself. Something else is going on. The gestures of mastery that carry us through, and that can often appear so formidable, are, in the last instance, unmasked as "childish measures." In an extraordinary passage from the final section, devoted to and named after these childish measures, North writes:
You sidestep, tease, dress up, hide, drag your feet, sing, evade a parental summons, stay up under the covers with a flashlight, nap during a lesson, ask again "But why?" and "But why?" and "Why?" until the question becomes exhausted, plug your ears. . . . Something trivial distracts you . . . you lose your train of thought. If we wanted we could imagine these non-acts as counterparts, under the aegis of yielding instead of acting, to responsibility, love, identity, obedience, learning, working, waking, daytime, daytime awareness, truth. You might imagine the modes of yielding practice as a set of antipodes to philosophical attitudes; instead of metaphysics, excuses; instead of politics, diffidence; instead of redemption, a hideout; instead of truth, fibs. (286)
Not least among these childish measures, I suspect, is a kind of aping and mocking of the parental voice, the voice of authority, of responsibility, of work. The power of this gesture, of this measure and counter-measure, consists in the absence of understanding, obedience, Gehörsam and gehören. To understand the voice of authority—the voice of reason, the summons of consciousness—is already to heed it, either by submitting to it or wielding it against others. But to imitate it without understanding, to reduce it to the mere semblance of authority by which it dresses itself up and makes its way about the world, is to open up a space of evasion, of daydreams; of the fragile truth of those exquisite moments in the child's life, suffused by an aching and beautiful melancholy, that have not yet been claimed by activities, toys, friends, and all these other paths to becoming. And yet "against all appearances," these childish measures, the "tricky attempts of children to avoid duty, pressure, violence, identity, responsibility," "cannot be carried out by children" (290). But perhaps there is really only one thing that a child can never manage: aping a child aping an adult.
Even if the concept of "play," North insists, is not enough for these childish measures, it would not be wrong to say that The Yield, which insists on a model of dialogical engagement, yields nothing less than a kind of playdate between Kafka and North, unscripted, unscheduled, and joyously free of parental oversight. Hence its dominant mood, which subtends all its scholarly sobriety: the playful and generous grandiosity of make believe. This mood corresponds to the happiness that has always been extinguished in the instant that the limits of the world become known. This grandiosity is, in the best possible sense, perplexing: it gives us to think, it yields thought. Or simply, it is yielding. Moreover, though, it is a kind of fidelity to Kafka's intention to realize that this intention cannot stop short of the "good, the true, and the being-ground of everything" (xv). Kafka's intention cannot stop short of all this, and even of God, because, as the preface intimates, Kafka finds himself in a world for which there is no place to "breathe or move or change" (xv). The only real act that is possible is "making room," yielding . . .
At the heart of this perplexity is a typographic question: the parallelogram has not only contracted and deformed into another figure, but a letter, and indeed a "K"—the abbreviation by which Kafka himself, the living individual, identified the protagonist of "The Castle," that novel of Kafka's which, for North, seems to come closest to the thoughts of the Zürau aphorisms. The expropriated propriety of the proper name, reduced to its most proper identifying element—the archē or initial that takes the lead in every alphabetical ordering—becomes the figure by which North seeks to find his way into Kafka's labyrinthine path. And yet this K, at once so familiar and so enigmatic, stands for yielding. Yet—and yet is "yet" not itself the particle of yielding—yielding is a giving by giving away and giving way; a refusal to stand. The "K" is, as it were, the last stand of understanding. And one could almost imagine the "K"—and as letters go, isn't it awkward, strange, precarious?—flopping over to its left, with the vertical shaft, the last stroke of the square's rectitude, taking root in the yielding earth and growing into a "Y." Yet if it can yield yielding in this way, it is also only because it is not quite, not yet, there. This magical perplexity—it brings us, like the youngest child at the Seder, to ask "Why?"—is doubled, trebled by a further complication. For P., the yield has everything to do with a critique of the logic of having that, as he argues in the first chapter, underlies the entire project of ontology, up to and including Heidegger, for whom "having" remains as an indestructible residue. Even Derrida, P. argues, will not go as far as Kafka.
Yet this makes it all the more perplexing, and in the best possible sense, that this revolution and revelation, a coup de grâce beyond the blows of agonistic thinking and beyond the simple faith of theology, is given over—yielded—to a proper name, or rather to its fragment and relic. This perplexity is wondrous because it demands of us that we read P.'s text against the grain of its consummate, uncanny mastery; as at once his own and not his own, as Kafka's and not Kafka's. As if: P = NP, and P ≠ NP. But this should not surprise too much: "This 'not and not-not'"—"not a Jew and not not a Jew," Kafka said of someone—"is a logical category peculiar to Kafka, or so I believe, a nondialectical self-relation that he develops across the thoughts as an instrument for cutting a pathway through theology and philosophy" (26).
If P. is right, then K.'s literature gives utterance to a truth beyond the horizon of Western thought, and indeed beyond the horizon of horizontality. And precisely because it was always there, beneath our feet: the yielding ground. If P. is right, the thinking of this yielding belongs to Kafka, or at least to K. This means not only, in a trivial way, that Kafka discovered the yield—an absurd formulation—or that he mastered it—even more absurd though not without truth—but that he yielded to it, and through a body of work that, like a gnarled tree, is twisted, strange. But what if the yield is not just the ground in which Kafka's thought takes root by making room, but a different element: spirit, wind. One is reminded of a passage from Zhuangzi, the Taoist author whom Kafka cherished: when the great wind arises, "raging cries emerge from all the ten thousand hollows. . . . And once the sharp wind has passed, all these holes return to their silent emptiness. . . . It gusts through all the ten thousand differences, allowing each to go its own way. But since each one selects out its own, what identity can there be for their rouser?"1 Perhaps there is not only a yield of earth but also a yield of spirit. While the great wind of the yield—spirit as yielding—becomes loudest through the contorted hollow of Kafka's writings, the yielding ground, and hence the systematic tendency that culminates in the atheological treatise that P. so brilliantly excavates from the Zürau thoughts, is itself only the detritus of a tradition that has already yielded.
The symposium, after which this forum is modeled, is a funny thing. It is all about taking a stand. But also about yielding, in a very literal sense: the perpetual agon of the agora, the perpetual back-and-forth of the dialectic, yields to a sequential ordering, with each speaker obliged to yield to the next. It is perhaps unsurprising that Socrates, that consummate street fighter of the logos, rather than entering directly into Agathon's house, stood for a long while, lost in his thoughts, in the portico—and not even of Agathon's house, but of his neighbor's. Yet here the discourse was about love, which stands before us a hard nut to be cracked open. Yet if all of philosophy is a footnote to Plato, and Plato the cracking open of the Socratic nut—the statues of Silenus, antique tchotchkes, to which Alcibiades, yielding to all the other speakers but getting the last word, compares the stub-nosed master—then the symposium retains its validity throughout the history of philosophy as a privileged forum, an opening for thinking. Yet if P. is right, then Socrates himself must yield to the yield. K. is otherwise, otherwise even than the alienus and alter of deconstruction. And so too the symposium, as form, must yield.
It is to the credit of The Yield and these four remarkable responses that they are each of such different character; that each sounds in its own way, whether by running with or against the grain—the wind?—of North's arguments. There is even a remarkable and beautiful awkwardness and dissonance that sounds between them, and which rests in the fact that the The Yield at once agonizes over theology, philosophy, and Kafka, but also deflects its own agonistic intention. The awkwardness, in other words, stems from the difficulty of pinning down a region outside the text from which it would be possible either to resist or not to resist. For Robert S. Lehman ("Aesthetic Unconsolation"), this will involve insisting on an image of philosophy as that which, in Wilfrid Sellars's words, aims "to understand how things in the broadest possible sense of the term hang together in the broadest possible sense of the term." By insisting on a more established philosophical agenda, against North's seeming resistance, Lehman seeks to suggest that Kafka's project, as conceived by North, could be understood in terms of an account, already found in Alexander Baumgarten, of the "singularity of an aesthetic judgment." Davide Stimilli ("Second Thoughts"), moving in a very different dimension, will contest North's insistence on transforming Kafka's "loose collection of aphorism" into a "treatise in thoughts," thereby seeking, "like any well-intentioned father" . . . to gather together, at the crack of the whip, his fugitive sons. Just as Lehman voices resistance to the rhetoric of mastery that seems to follow from the rejection of philosophical logos, Stimilli will insist that "it is unquestionable, to my mind, that Kafka's sympathy goes to the slave and never to the master." Eli Friedlander ("On Having and Being"), approaching The Yield in a rather different spirit, yields to the yield, thinks along with it, culminating in an illuminating comparison with Benjamin's "Kafka Essay." Finally, Erica Weitzman ("Better Weapons"), drawing on Blanchot, seeks to bring out the implications and stakes of a reading of Kafka that, as she notes, insists "on a truly radical Kafka"; a Kafka who is not merely a "half-comprehensible curiosity," let alone a "cryptogram of preexisting ideas and figures," but a "challenge to the very premises of our ways of thinking and being." That her response, as one suspects, lies at once closest to and furthest from The Yield, and the yield, is clear when, bringing her argument to a close, she rephrases Kafka's aphorism: "In the struggle between you and the world, second the world" becomes "In the struggle between you and the world, provide the weapons." She adds: "Kafka gives the weapons to the world against which he is contending. But they are his weapons too, the weapons of the image before semblance, through which death enters in."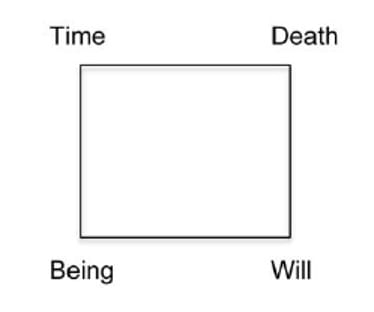 Figure 1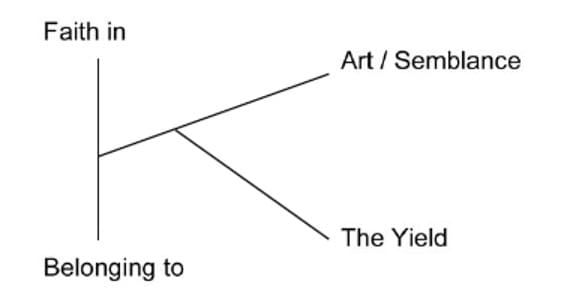 Figure 2
---
Zhuangzi, The Essential Writings with Selections from Traditional Commentaries, trans. Brook Ziporyn (Cambridge: Hackett, 2009).↩