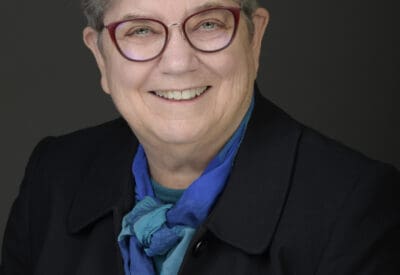 Susan K. Wood is Professor of Systemic Theology at Regis College in the Toronto School of Theology, Canada.  She received her doctorate in systematic theology from Marquette University.
Very active in ecumenical work, she serves on the U.S. Lutheran-Roman Catholic Dialogue (1994-2019), the North American Roman Catholic-Orthodox Theological Consultation (2005-present), the International Lutheran-Catholic Dialogue (2008-2019), and the conversation between the Baptist World Alliance and the Roman Catholic Church (2006-2010, 2017-2022). She serves on the editorial advisory board of the journal Ecclesiology. Most of her writing explores the connections between ecclesiology and sacramental theology. She served as President of the Catholic Theological Society of America 2014-2015 and received the John Courtney Murray Award in 2021.
In addition to numerous articles, she has published Spiritual Exegesis and the Church in the Theology of Henri de Lubac (Eerdmans, 1998), Sacramental Orders (Liturgical Press, 2000), which has also been translated into Spanish, and One Baptism: Ecumenical Dimensions of the Doctrine of Baptism (Liturgical Press, 2009), and co-authored with Timothy J. Wingert, A Shared Spiritual Journey: Lutherans and Catholics Traveling toward Unity (Paulist Press, 2016). She is the editor of Ordering the Baptismal Priesthood (The Liturgical Press, 2003) and co-editor with Alberto Garcia of Critical Issues in Ecclesiology (Eerdmans, 2011).