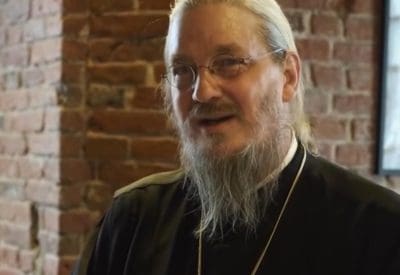 Father John Behr is Professor of Patristics, teaching courses in patristics, dogmatics and scriptural exegesis at St. Vladimir's Seminary, and also at Fordham University, where he is the Distinguished Lecturer in Patristics.
After completing his first degree in Philosophy in London in 1987, Fr. John spent a year studying in Greece. He finished an M.Phil. in Eastern Christian Studies at Oxford University, under Bishop Kallistos (Ware), who subsequently supervised his doctoral work, which was examined by Fr. Andrew Louth and Rowan Williams, now Archbishop of Canterbury.
While working on his doctorate, he was invited to be a Visiting Lecturer at St. Vladimir's Seminary in 1993, where he has been a permanent faculty member since 1995, tenured in 2000, and ordained in 2001. He served as Dean of St. Vladimir's Seminary from 2007 to 2017, and in 2016 he was also appointed as the first (part-time) holder of the Metropolitan Kallistos Chair of Orthodox Theology at the Vrije Universiteit of Amsterdam. In September 2019, he was appointed as professor in divinity at the University of Aberdeen.
His published works include The Way to Nicaea (SVS Press 2001), The Mystery of Christ: Life in Death (SVS Press 2006), and Becoming Human: Meditations on Christian Anthropology in Word and Image (SVS Press 2013).